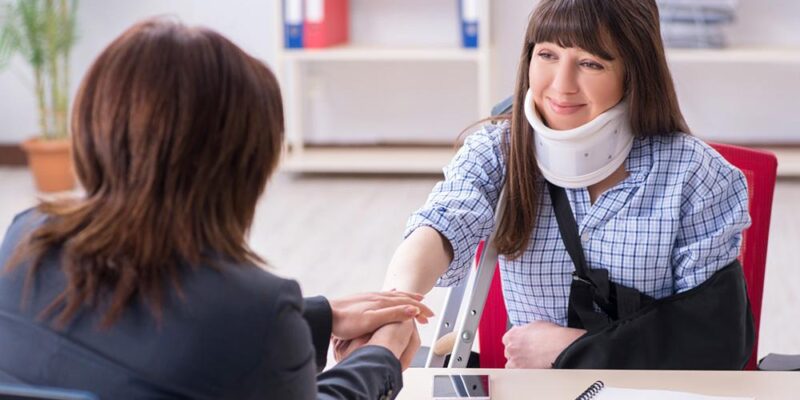 What do you know about personal injury cases? This is a legal term referring to harm suffered by a person owing to a negligent or purposeful act by another person or entity. Often, such cases are settled without a formal lawsuit whereas mediation or arbitration is usually employed to resolve the case. Nevertheless, when the case proceeds to trial, you want to have an excellent criminal defense lawyer by your side to argue out your case.
Injuries don't automatically result in legal liability, you must understand the statute of limitations for your case as established by the law. This is where a personal injury lawyer comes in to represent you and ensure you get compensated. personal injury cases are formalized through a court proceeding where they seek to find others legally at fault through a judgment.
Common Types of Personal Injury Cases
Not all purposeful or negligent acts quality as personal injuries. We will examine what qualifies a case to have legal liability and warrant compensation.
Motor vehicle accident – This is the most common type of personal injury suffered. Annually, millions of road accidents take place where pedestrians or passengers suffer bodily harm. An experienced attorney will protect your rights throughout the process by ensuring you are adequately compensated for your injuries or financial loss. Usually, it's insurance companies that payout once it's established that a driver was at fault.
Medical malpractice – This happens when a medical professional provides a treatment that falls short of the appropriate standards of medical care. Such types include; misdiagnosis, childbirth injuries, errors on medication delayed diagnosis, surgical errors and failure to treat. The service of an experienced medical malpractice lawyer comes in handy owing to the complexity involved in such cases. Such injuries can be life-altering and it's only right that you get adequately compensated when they occur.
Workplace injuries – During their day-to-day activities while earning a living, an employee can get injured. This can cause mental and physical distress requiring compensation to be instituted. Usually, most employers have insurance to safeguard against such an occurrence. The work injury benefit act (WIBA), provides compensation through monetary means depending on the severity of the injury. The payment can be in terms of a lumpsum payment or partial payments. Enlisting the services of an experienced attorney goes a long way in ensuring you get justice when you are injured on the job.
Product liability – This occurs when businesses, individuals, or the government manufacture and distribute defective products. Additionally, improper labeling and manuals can also cause bodily harm to users requiring compensation. For example, Johnson & Johnson was forced to pay up about $325 million for their defective baby powder to over 20,000 defendants. Hiring a seasoned lawyer for such a case is critical to ensure they evaluate the defective product and extent of injuries. This helps to put your mind at ease once litigation starts since you face very experienced lawyers that are usually on retainer for the producer of the defective products.
Wrongful death – The emotional strain associated with the death of a loved one is inexplicable. This occurs when a negligent personal injury leads to the demise of life. Often, this type of suit occurs because of road accidents or using defective products. You need to hire an experienced attorney to lodge a lawsuit to claim compensation for the recovery of damages suffered.
Assault – Unlike other personal injury acts that may be the result of negligence, in this case, one individual hurts another on purpose. This usually entails a personal civil suit to get compensation for injuries suffered. Assault cases include; battery, domestic violence that cause bodily harm to another individual.
Slip and fall accidents – Property owners have a legal obligation to keep their property safe and free from obstructions or hazards that can cause bodily harm. Often, private individuals have home insurance that helps safeguard against the occurrence of such events while public institutions take out the necessary insurance covers. Hiring the right lawyers when such events take place is imperative in ensuring you are adequately compensated.
Defamation – This refers to injuries to a person's reputation as a result of untrue statements. A great personal injury will work to establish how and where the negative statements were made and what effect they had, establishing financial loss suffered.
These are the steps you should follow when filing a personal injury case
Seek medical treatment – When you suffer bodily harm, this is the most important step. You have to go to a medical professional and get a check-up plus medication. Often, you may feel that the condition doesn't warrant medical attention, but in most cases, it's important to let medics determine that.
Prepare documentation – You must document every process and ensure to keep records of everything that happened. Keep documents relating to how the accident occurred, what interventions were done, medically or otherwise. This helps to determine the amount of compensation due.
Seek legal advice – Once you seek medical attention and ascertain the extent of injuries. It's imperative to seek legal redress. An experienced lawyer will guide you throughout the process and essentially ensure you get enough compensation for the damages suffered.
Filing a lawsuit – This is where having an excellent lawyer comes in handy. They handle the bulk of the work such as filing the suit, serving the notice, negotiating the settlement talks, and handling the actual settlement. Employing a personal injury lawyer helps take the stress out of the whole process and also ensures you get adequately compensated for injuries suffered.
Wrap up
When an injury is suffered, the first and most instinctive thing to do is lodge a suit. It helps when you hire an experienced lawyer to handle the case. They are experienced in the law and negotiating skills, something that comes in handy when dealing with insurance companies. Going it alone can seem worthwhile, but knowing that you have an excellent law firm by your side provides assurance that you will be compensated adequately.