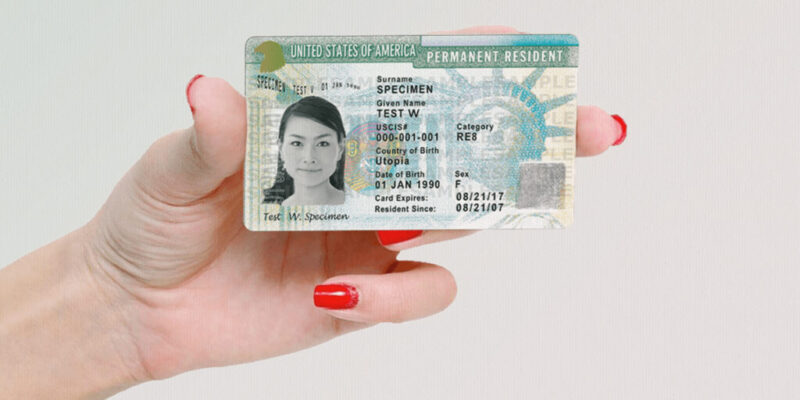 Through Marriage: Getting married to a US spouse or permanent resident is a very common way to get a green card. Your "sponsor," the citizen or permanent resident, initiates the process for you with USCIS (United States Citizenship and Immigration Services ). Note that the green card with SimVisa for example will initially be issued temporarily for 2 years, then its validity increases to 10 years if you are still in a relationship after this period.
Form to complete: Form I-485 – Application to Register Permanent Residence or Adjust Status
Cost: between $750 and $1,140 depending on the case + $85 for biometric fingerprints.
Through Family Links:  
If a family member already has US citizenship, you can apply for a Green Card. On behalf of family reunification, any US citizen aged 21 or over may apply for a green card for their minor children, their parents, or even a brother or sister in the case of adult children. Be careful; depending on the family relationship with the American citizen, the delay varies enormously, and you must be patient.
Form to fill out: I-130 – Immigrant Petition for Alien Relative.
Cost: $535
Through Investment: 
Thanks to the federal program, 10,000 EB-5 visas are reserved each year for entrepreneurs to invest and create jobs in the United States. To obtain this visa, it is necessary to inject 500,000 dollars or more (into a regional center) and to undertake to create at least 10 full-time jobs there, which are imperatively reserved for American employees. The big advantage of the EB-5 visa is that it immediately provides the investor and his family (spouse and children under 21) with a conditional green card valid for 2 years.
Form to complete: EB-5 Immigrant Investor Program + I-526, Immigrant Petition by Alien Investor +I-829, Petition by Investor to Remove Conditions on Permanent Resident Status
Cost: $3.675 + $3.750
By Employer Sponsorship:
This opportunity is controlled and supervised by the American administration (see below: "Permanent Employment Certification "). The employer, the sponsor, must prove that the candidate is the only qualified for the position stipulated by the job offer and that his recruitment will not hurt the American labor market. Then begins the Green Card application procedure.
Form to fill out:
I-129 – Petition for a Nonimmigrant Worker
Cost: $700
Or
I-140 – Immigration Petition for Alien Worker
Cost: $460
Holding a green card offers many advantages for those who wish to travel and live in the United States, but it also presents some constraints that must be considered. As a permanent resident of the United States, you are required to pay your taxes in the United States.